Our Company
About Us
about us
An Introduction to NBC Meshtec Americas
NBC Meshtec Americas Inc. was originally established as Dynamesh Inc. in 1990. It was created to be a one-stop-shop for all screen printing pre-press needs, starting with the most advanced screen printing meshes manufactured by our parent company, NBC Meshtec Inc. of Japan In 2001, 100% ownership was assumed by NBC, creating an American company experienced with the North American market and supported by a global leader in mesh technology with a worldwide presence.
NBC Meshtec's Global Support Team
An American company supported by a global leader in mesh technology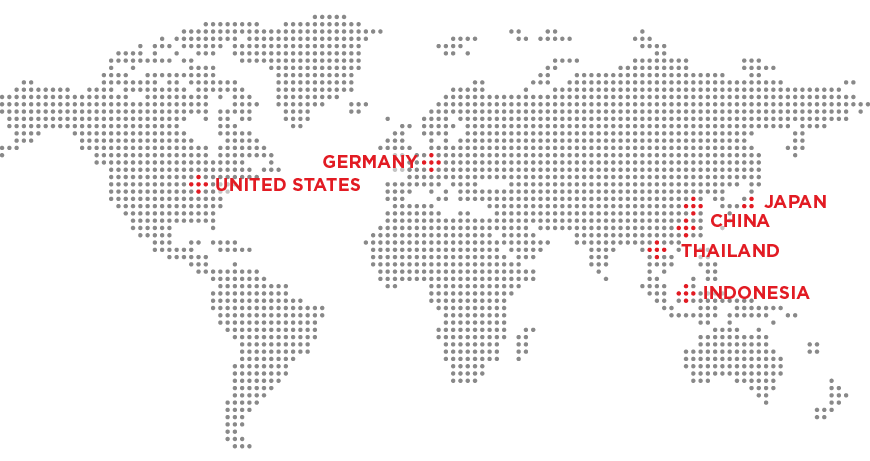 In 2004 Dynamesh expanded their screen-making facility by adding a cleanroom and state-of-the-art quality control equipment to offer the most sophisticated screens for various electronics and thick film applications. The incorporation of NBC's proprietary V-Screen™ elevated Dynamesh's screen making facility to a whole new level. The tensile strength and dimensional stability of this product make it ideal for precision printing and long production runs. In 2012, Dynamesh moved to an expanded facility in Batavia, IL (a suburb of Chicago) to further support and develop the screen making side of the business, with a focus on printable electronics applications.
Over the last 25 plus years, NBC Meshtec Americas has grown to be recognized as a screen printing advisor to the industry and one of the leaders in mesh technology throughout North America.
Continuing a Legacy of Quality
Our parent company, NBC Meshtec Inc. was established back in 1934 under the name of Nippon Bolting Cloth Co., Ltd., with the goal of producing sifting screens for the Japanese domestic market. In 2014, they celebrated their 80th anniversary.
Throughout the decades, NBC has developed a variety of mesh-based technologies in areas such as molded filters for automobiles and other filtration applications, industrial components for telephones, speakers, computers, et al, and screen printing meshes for graphics, textiles, nameplates, glass, decals, and electronics such as printed circuit boards, membrane switches, touch panels, medical, solar-cell applications, and so forth. Millions of people and industries around the world benefit daily from our mesh technology without ever realizing it, as it has been integrated into a wide range of industrial and consumer products.
With a constant focus on quality, NBC is continually innovating technological breakthroughs that make a significant contribution to society well beyond the value of simple filtration. By combining its existing technologies with novel new discoveries and techniques, NBC has developed new meshes enabling functions unimaginable with conventional meshes.
For example, one key product that NBC has developed is called Cufitec®. This is a mesh material created by combining a newly developed antiviral material and NBC's proprietary Nafitec® technology. With this product, viruses become firmly attached on contact with the filter surface where 99.99% of their infectious properties are then eliminated within minutes. NBC developed a protective facemask as one of its first products to utilize this technology, and plans to create a variety of related products such as protective clothing, sheets and curtains.
A History of Responsibility
"The Basis of Business is Trust" is the corporate motto established by Teiichiro Shoda, founder of Nisshin Seifun, parent company of NBC Meshtec.
Since its foundation, NBC has always been aware of its responsibility towards protecting the environment in all of its business operations. As environmental protection has been a major global issue for decades, NBC's corporate policy includes its environmental mission and principles. All NBC employees are trained to perform their job activities in an effort to reduce pollution, save energy, conserve resources, and resolve any environmental problems that may occur during any of the company's operations.
NBC has factories, divisions, and sales offices throughout Japan as well as in the United States, China, Indonesia, Thailand, and Germany. As new industries and economies continue to emerge in developing countries, NBC is there to offer its support and development through its advanced mesh technology.
NBC's philosophy is that "the basis of business is built on trust." By adhering to quality as its core principle, NBC is confident that it can continue to provide total customer satisfaction, which in turn will support continued prosperity for the company, its employees, and society at large.
We make businesses better with the best in mesh technology
Following the example of our parent company, NBC Meshtec Americas is proud of its reputation in supporting small, medium, and multinational companies spanning the entire spectrum of screen printing and filtration. Over the decades, we have proven that we make businesses better with the best in mesh technology. In harmony with that mission, we have worked hard to achieve and maintain ISO 9001 certification for the past several years.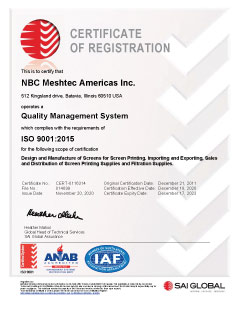 This dedication to quality and service even extends to our choice of headquarters, as we are centrally located to serve our customers from all over North America with quality and innovation, and to provide total customer satisfaction.