Product Solution
Dynamesh G-Meter Tension Meter
dynamesh g-meter tension meter
Dynamesh G-Meter Tension Meter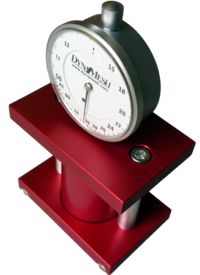 The G-Meter tension meter is newly redesigned and offers several unique advantages.
First and foremost, as a gravity-driven device, it never requires recalibration. Conventional meters use spring-driven mechanisms that do require periodic calibration service, especially after repair. However, the Dynamesh G-Meter is field repairable. Even after repair, calibration is automatic and continued accuracy is retained. This is an obvious advantage for customers living outside the United States—avoid the time and transportation costs associated with getting other tension meters recalibrated.
Features
Simple to use
Clearly marked dial reading range from 11 to 50 N/cm
Superb accuracy
Repeatability
Solid construction
Anodized finish on billet aluminum
No downloads currently available.
If you are looking for a user guide, SDS, or other document, please
click here
to contact us.
| Product SKU | Description | U/M | List Price |
| --- | --- | --- | --- |
| SKUEQ-RSTNEWTON-G | DESCDYNAMESH G-METER GRAVITY DRIVEN SCREEN TENSION METER | U/MEA | LIST PRICE$435.65 |
Information and pricing current as of 8/9/2021
Questions? Interested in purchasing?
Call (800)235-5056 or
click here
to contact us about this product.