Product Solution
NBC Molded Filters for Automotive Applications
nbc molded filters for automotive applications
NBC Molded Filters for Automotive Applications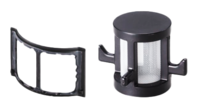 NBC Meshtec custom plastic molded filters combine NBC's unparalleled industrial mesh technologies with decades of technical manufacturing expertise. As a result, NBC Meshtec can utilize its extensive experience and know-how to help optimize the design and specifications of each customer's injection molded filters. For example, when designing the mold for such a filter, NBC Meshtec carefully reviews the manufacturing process and customer's specifications from a variety of perspectives in order to create an optimum filter shape that will meet safety standards while still being cost effective.
Additonally, NBC Meshtec's integrated manufacturing process ensures reliable quality control by means of proprietary automated technology. The entire manufacturing process, from mesh production to metal mold design, prototyping and mass production, is carried out in-house. This allows a rapid response to changing specifications.
Understanding that the performance of automobile filters directly affects human lives, NBC Meshtec tolerates no defects in its injection molded filters. This high level of quality is ensured through visual inspection and the use of automated image-inspection equipment.
Created from a variety of mesh types and plastic materials, NBC Meshtec delivers high quality plastic molded filters for a variety of applications within the automotive industry.
Applications
Oil filters
Gasoline filters
Injector filters
ABS filters
Automobile air conditioner filters
Transmission filters
Brake filters
Power steering filters
Oil control panel filters
Purchasing Options
Contact your sales representative for information on pricing and ordering of custom molded automotive filters
Questions? Interested in purchasing?
Call (800)235-5056 or
click here
to contact us about this product.