Product Solution
Protec TDS-12A Digital Handy Scale
protec tds-12a digital handy scale
Protec TDS-12A Digital Handy Scale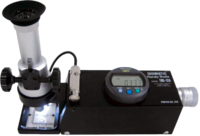 The TDS-12A Digital Handy Scale is a compact, yet highly precise digital length gauge designed for use with photographic masks, screen masks, films, and printed circuit boards. It is perfectly suited for quality control work—accurate to the micrometer and designed to handle the complicated data processing necessary for such applications. It does this via the optional DP-1VR mini processor and printer.
Additionally, the TDS-12A's lightweight design and built in LED illumination make it exceptionally portable.
Features
Measurement range of 12 mm on either axis
1 µm minimum measurement unit
100X magnification
Product Options
Microscopic Eyepieces

20X, 40X, 60X

Printing

DP-VR1 Printer Cable Available
Questions? Interested in purchasing?
Call (800)235-5056 or
click here
to contact us about this product.