Product Solution
Frame Cleaning Equipment
frame cleaning equipment
Grünig G-PREP 320 Frame Cleaning Machine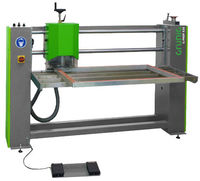 The G-PREP 320 is a screen frame stripper that is fast, economic and efficient for all sizes of screens and profile thicknesses.
It enables a consistent grinding process that guarantees identical results from all operators. The rotating abrasive disc grinds the screen frame profiles in both directions, and the G-PREP 320 also allows for places with particularly resistant residues to be easily ground over multiple times.
Features
Simple operation
Suitable for all frame formats
Straight and regular grinding
Operation with foot pedal
Processing length 39″ or 59″ (1000 or 1500 mm)
Product Options
Option H

Hard metal grinding disc

Option K

Small screen support allows you to handle smaller screen frames with a profile height between 3 and 5 mm.

Option S

The safety suction device WAP vacuums the grindings and residue that fall into the suction device during the grinding process. The particles are filtered in the dust bag and can be easily disposed of as needed.
Request a Quote
Please submit the following form, and a representative will contact you about a quote as soon as possible.
Grünig G-PREP 370 Frame Cleaning Machine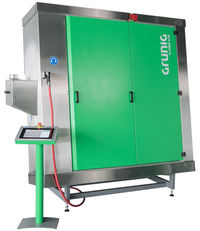 The G-PREP 370 is an automatic screen frame cleaner that guarantees professional cleaning with maximum speed and safety while eliminating wear on the frame itself. It effectively and automatically removes glue residue using extremely high pressure water. A frame surface cleaned by the G-PREP 370 guarantees an optimal bond between the mesh and frame.
Features
User friendly
Compact construction
Maximum screen format 55″ x 102″ (1400 x 2600 mm)
Simple cleaning
Adjustable and programmable speed and pressure
UHP nozzle head designed for 1500 Bar/21750 psi
Product Options
Option MD

A modem allows remote diagnostics or a software update via the telephone line

Option V1

Equipment for connecting the machine to a customer-supplied ventilation system

Option V3

Aerosol filter with exhaust air ventilator for eliminating even the smallest water droplets from the exhaust air

Option WA1

Connection for a pressurized water system

Option WA2

Connection for a clean water tank with booster pump

Option Z

Frame shelf, allowing for the treatment of several stacked frames
Purchasing Options
Standard Screen Widths

59″ (1500 mm), 94″ (2400 mm), 102″ (2600 mm)

Standard Screen Heights

39″ (1000 mm), 55″ (1400 mm)
Request a Quote
Please submit the following form, and a representative will contact you about a quote as soon as possible.